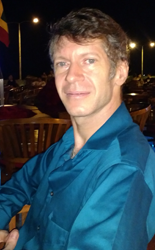 John has always wanted to see the world. When the time came for a fresh start in a positive and upbeat industry, he found it at Cruise Brothers. His dreams of travel and financial success became a reality, as a travel agent and Team Leader.

He works many long hours every week helping his team and teaching them the fine art of booking travel. From getting the best price to finding the best perks that only travel agents can offer their clients. "I want others to be able to enjoy all the exciting things that working in travel affords! By sharing everything I know about travel and offering the very best support, my team members succeed! And the best part is it doesn't cost anything." John said.

John has traveled to many places around the globe including Europe, the Caribbean and South America. His favorite trip, to Norway and the fjords. The deep blue waters, flowing waterfalls and snowcapped mountains that tower above the water are simply breathtaking! According to John, "Seeing landscapes that were created thousands of years ago was an opportunity of a lifetime!"

With over 15 years of travel experience John guarantees smooth sailing for where ever your travel plans take you.

John loves to both watch and play sports! A graduate of Babson College with a Bachelor of Science degree in Marketing he understands what it takes to create a great plan to market a business. He is ready and willing to help you market yourself in your next career as a travel agent.