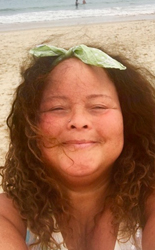 Rhonda has an unquenchable thirst for travel of all kinds.  Discovering new places, people and cultures, has been a rewarding and completely enjoyable part of her life.
Her personal travel experience, and expertise in booking cruises, and all-inclusive and exotic resorts, provide her agents, "The Travel Squad" with invaluable information and a solid foundation in their travel business.
Rhonda's knowledge provides her team members with a unique advantage.
From her own background in teaching,
she prides herself on taking the time to work with each member of her team to help them learn and grow as travel associates and be successful.
She is available to her team, sharing her vast research on many destinations and ports of call. This valuable information keeps her team updated in order to work with their guest(s) to plan their incredible vacation.
Rhonda can help you customize your clients travel plans and wishes.
She understands that this may or
may not be a full-time commitment. Therefore whatever your level of participation will be, Rhonda your
Team Leader, will be there every step of the way to help you reach your goal.
Rhonda provides her Travel Squad members with opportunities for free cruises, FAM trips at low or no cost,
and earning 50 % of the earned commission on booking not only for themselves, but for friends, family
and clients alike.
Rhonda loves adventure and has traveled to many exotic destinations; places that she had previously only dreamed about. She enjoys exploring the world with Terry, her husband of 20+years, their son TJ, age 22, her parents, close friends,
co-workers and extended family!
She loves to share her experiences with others. She has sailed on 40+ cruises aboard some of the most beautiful ships in the world and stayed at such luxurious resorts that no one could ever forget. Visiting many wondrous destinations throughout Europe, (Italy, France, Spain, Germany, Portugal, Austria/Hungary) Great Britian, the Caribbean, Bermuda, Alaska, Mexico, Dubai and South America. Although every trip has been an exciting adventure, her favorite place would have to be The Amalfi Coast. The breathtaking views, unique architecture, landscapes, gorgeous beaches, blended with the local flavor and European charm, is truly spectacular.
Rhonda was a stay-at-home Mom for over 17 years,
until 5 years ago when the lure of the seas and travel led her to becoming a Cruise Brothers Team Leader.
Rhonda is ready to help anyone who loves the world of travel as much as she. Your Team Leader is here to make your travel dreams a reality!