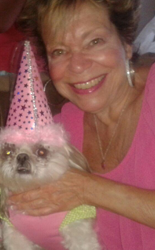 All it took was just one cruise on the Emerald Seas and a visit to Walt Disney World and Sandy was hooked on travel! Ever since her enthusiasm and passion for adventure have taken her to many exotic and faraway places, traveling on over 50 cruises to Central America, South America, Europe, the Mediterranean, and the Middle East.
Her zest for life and travel can be wrapped up with one word, Opa! It's not just a word, for Sandy it's a lifestyle! Dancing the traditional Greek folk dances while traveling through Greece is a memory she'll never forget. Visiting the sun-kissed shores of the Greek Isles, exploring the world heritage sites including Delphi and the oracle of Apollo, and stopping at Mykonos with its white buildings, windmills, turquoise sky, and of course food and wine, amazing!

Her love of travel and experience as a travel agent has blossomed into a teaching role. Since 2012, Sandy has been a team leader for Cruise Brothers. In addition to helping her clients find the very best vacation, she has been mentoring folks who are looking for a career in travel, helping them to become outside agents for the company. "It is really a great feeling to know that my time has been well spent, I am so very proud of all my team members and everything they have accomplished! Now, they are making money in their own home-based business and having fun doing it too", Saposnick stated.

When Sandy isn't exploring new destinations and training others to become travel associates, she loves spending time with her two adorable Shih Tzu's!